About Us
Troy Family Dentistry is a leading dentist in the community of Troy and the surrounding areas known for delivering a WOW experience.
Delivering a WOW experience is a patient-focused, results-oriented approach that we strive to consistently provide with a high level of service and excellence to our customers.
About Dr. John Hwang
Dr. John Hwang attended the Michigan State University – where he received his Bachelor of Science in Physiology. Following his undergraduate studies, he attended the University of Michigan School of Dentistry – where he earned his Doctor of Dental Surgery degree.
From the beginning of his dental career, Dr. Hwang has always had the philosophy of putting his patients first. His belief has always been to treat patients the way he would want to be treated. Patient always comes first!
Dr. Hwang's goal is to always deliver a quality service to his patients in a friendly manner, ensuring that each patient receives gentle and compassionate dental care. He involves patients in decision regarding their personalized, comprehensive care that will achieve the optimal results they desire. Dr. Hwang is fluent in English and Korean.
Dr. Hwang is a member of the American Dental Association, Michigan Dental Association, and the Academy of General Dentistry.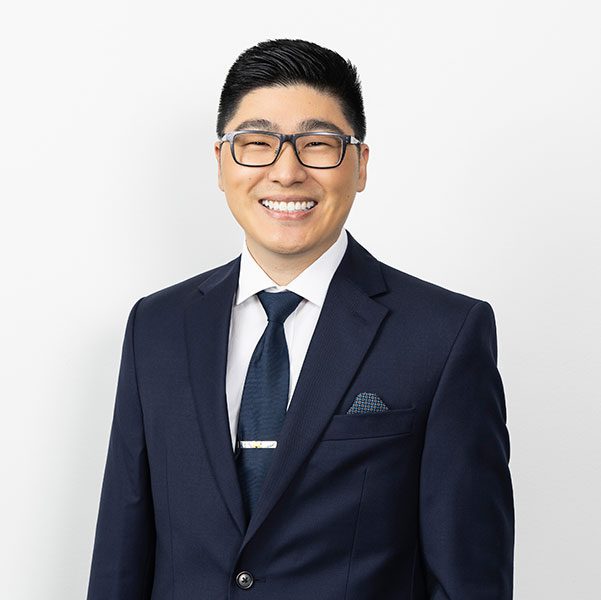 Angie RDH
Angie has been a dental hygienist for over 20 years. She started her hygiene career at this office. She graduated from Oakland Community College's Dental Hygiene program.  She is licensed in both local anesthesia and nitrous oxide.  Angie holds a double role in the office as Office Manager as well.  Outside of the office Angie enjoys reading, sunshine and family and friend time.  "I value the special relationships and trust I have built over the years with my patients and look forward to continuing that relationship for many years."
Janice RDH
Janice has spent more than twenty five years in the dental profession, earning a Bachelor of Science in Dental Hygiene from the University of Michigan and receiving her license as a Registered Dental Hygienist in 1997. She is also licensed in providing patient comfort with local anesthesia. Prior to becoming part of the Troy Family Dentistry team, Janice was fortunate to have provided dental care along side Dr. Hwang in a previous office in 2021-2022.
Janice grew up in the Westland area, met and married her husband of 25 years, Jeff. Together they have four adult children and a granddaughter. Janice enjoys photographing nature, reading and spending time at the beach. "The relationships endeavored over the years are irreplaceable. I am thankful for the opportunity to serve those who have taught me so much about life."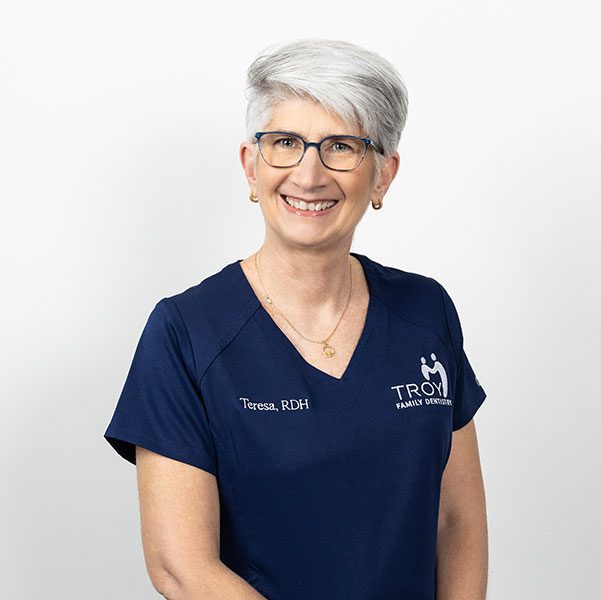 Teresa RDH
Teresa has been a dental hygienist since 1990. She earned her Associate's Degree at Owens Technical College in Ohio. She has licenses in both Ohio and Michigan. She also holds certification in EFDA (Ohio), CPR, Nitrous, and Local Anesthetics. Teresa is very passionate about what she does and wants to provide quality, individual treatment in a comforting and caring way to each of her patients. She is always looking to take continuing education courses to provide her patients with the highest quality dental care to improve their dental health.
Teresa has been married to her husband Paul, since 2000. They have four children, Brendan, Mary Ruth, Katherine, and Julia. Her family also has a spunky Chiweenie named Piper. When Teresa is not in the office she enjoys spending time with her family and friends.
Dana
Dana has been working in the medical and dental field for over 18 years, specializing in insurance billing. She received her Associates in Business/Marketing in 2001 and is certified in Medical Terminology and Insurance Billing and Coding. She has been working in Troy since 2015. Dana enjoys helping our patients with their benefit details to ensure that they have a full understanding of coverage and treatment needs.
Dana is recently married to George and they have three adult children and two shih tzu dogs. She enjoys reading, board games and local traveling.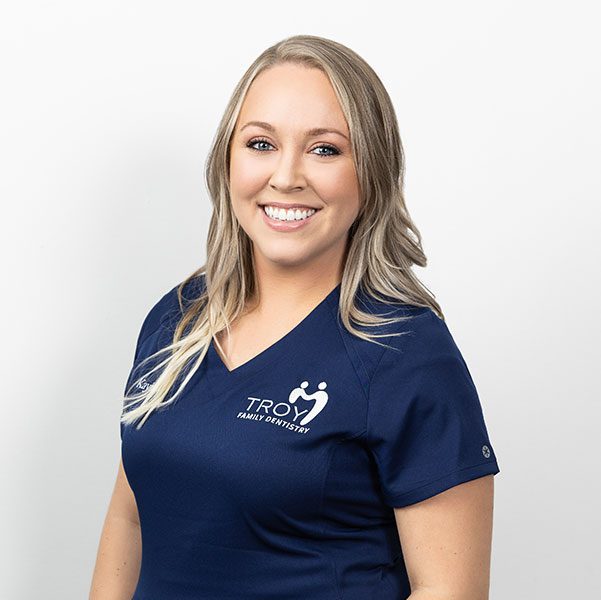 Kayla
Kayla has been working as a dental assistant for over 13 years. She started in the field by chance while attending Oakland University and instantly fell in love with dentistry. Not only does she enjoy the clinical side, but really cherishes the unique relationships she gets to build with patients. She is x-ray and CPR certified.
Outside the office Kayla spends as much time as she can with family and friends, including her partner Derrick and two puppies Ozzy and Dakota. She also enjoys cooking, soccer, and listening to audiobooks.